March 15, 2020
A week ago, Mark Canlis's restaurant in Seattle was offering a $135 tasting menu to a bustling dining room every night. Eileen Hornor's inn on the Maine coast was booking rooms for the busy spring graduation season. And Kalena Masching, a real estate agent in California, was fielding multiple offers on a $1.2 million home.

Then the coronavirus outbreak changed everything.

Today, Mr. Canlis's restaurant is preparing to become a drive-through operation serving burgers. Ms. Hornor is bleeding cash as she refunds deposits for scores of canceled reservations. And Ms. Masching is scrambling to save her sale after one offer after another fell through.

"Last week, I would have told you nothing had changed," she said. "This week, it has all gone to hell."

For weeks, forecasters have warned of the coronavirus's potential to disrupt the American economy. But there was little hard evidence beyond delayed shipments of goods from China and stomach-churning volatility in financial markets.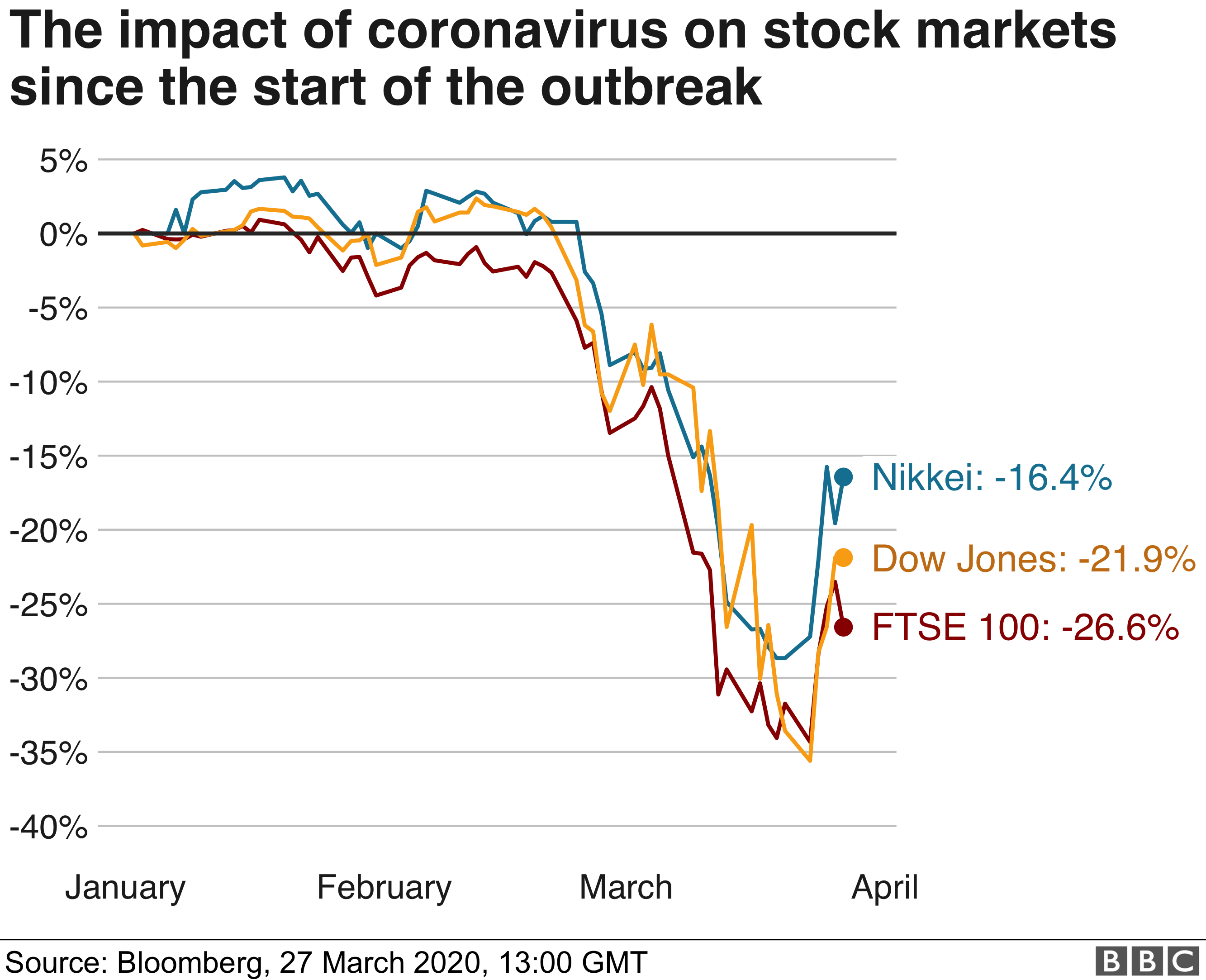 Not since the attacks of Sept. 11, 2001, has a crisis enveloped so much of the economy so quickly. Broadway is dark. The college basketball tournaments are canceled and professional sports are on indefinite hold. Conferences, concerts and St. Patrick's Day parades have been called off or postponed. Even Disneyland — which stayed open through a recession a decade ago that wiped out millions of American jobs and trillions of dollars in wealth — is shuttered.

"This hits the heart of the economy, and it hits the economy on all sides," said Diane Swonk, chief economist at Grant Thornton. "It's not just that we're slowing down things. We're actually hitting the pause button, and there is no precedent, there is no mold for that."

—

A survey of prominent academic economists, also released Thursday, found that a majority thought the outbreak was likely to cause a "major recession."

Question A: Even if the mortality of COVID-19 proves to be limited (similar to the number of flu deaths in a regular season), it is likely to cause a major recession.

Even if the mortality of COVID-19 proves to be limited (similar to the number of flu deaths in a regular season), it is likely to cause a major recession.

Question B: The economic effects of COVID-19 coming from reduced spending will be larger than those coming from disruptions to supply chains and illness-related workforce reductions.

The economic effects of COVID-19 coming from reduced spending will be larger than those coming from disruptions to supply chains and illness-related workforce reductions.

Specific responses from the economists here.

The pullback from public life has devastated businesses like Tom Douglas's restaurants in the Seattle area

Kati Vegan Thai restaurant in Seattle during lunch hour.

The Coronavirus IMPACT to the World Stock Markets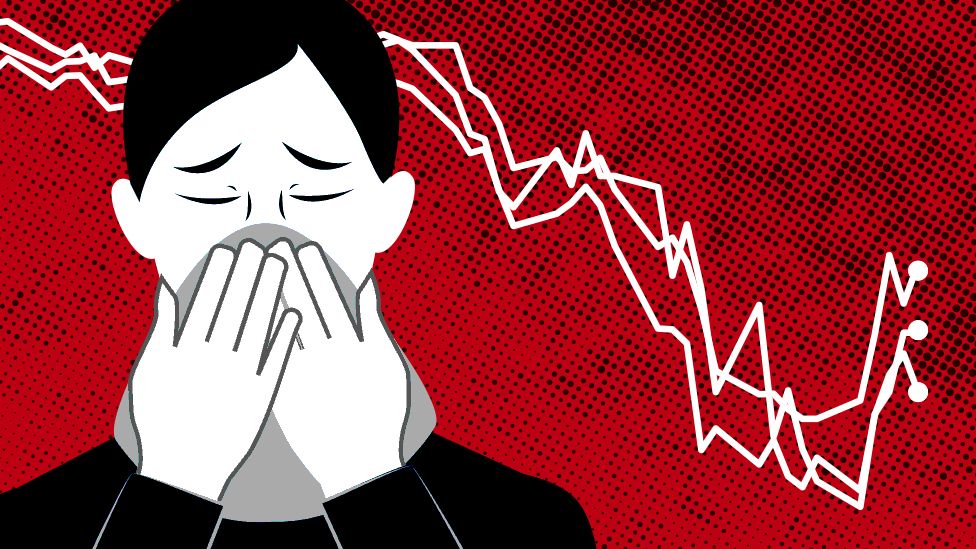 FTSE 100 Plunged according to the fears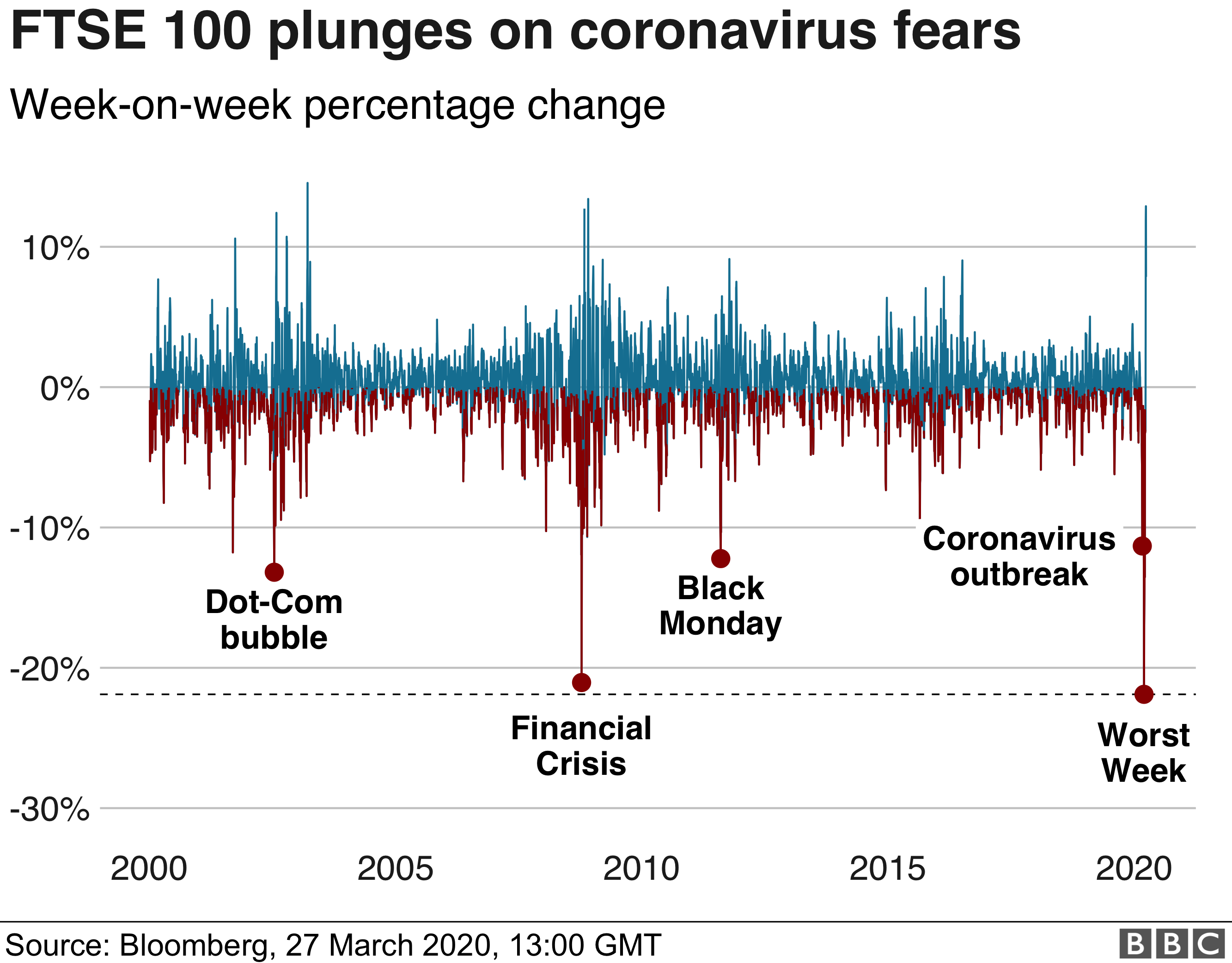 US Unemployment claims highest EVER!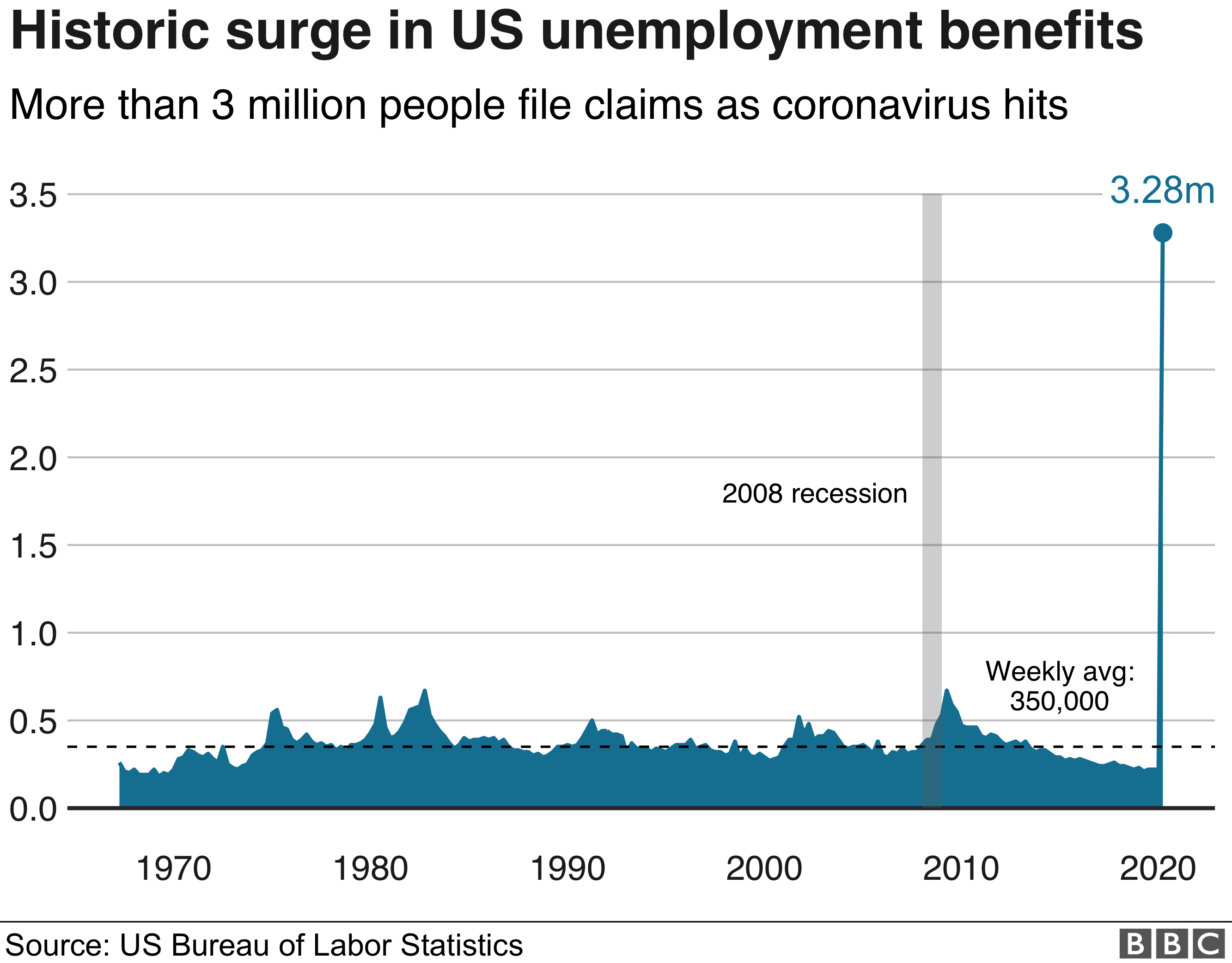 Travel Restrictions everywhere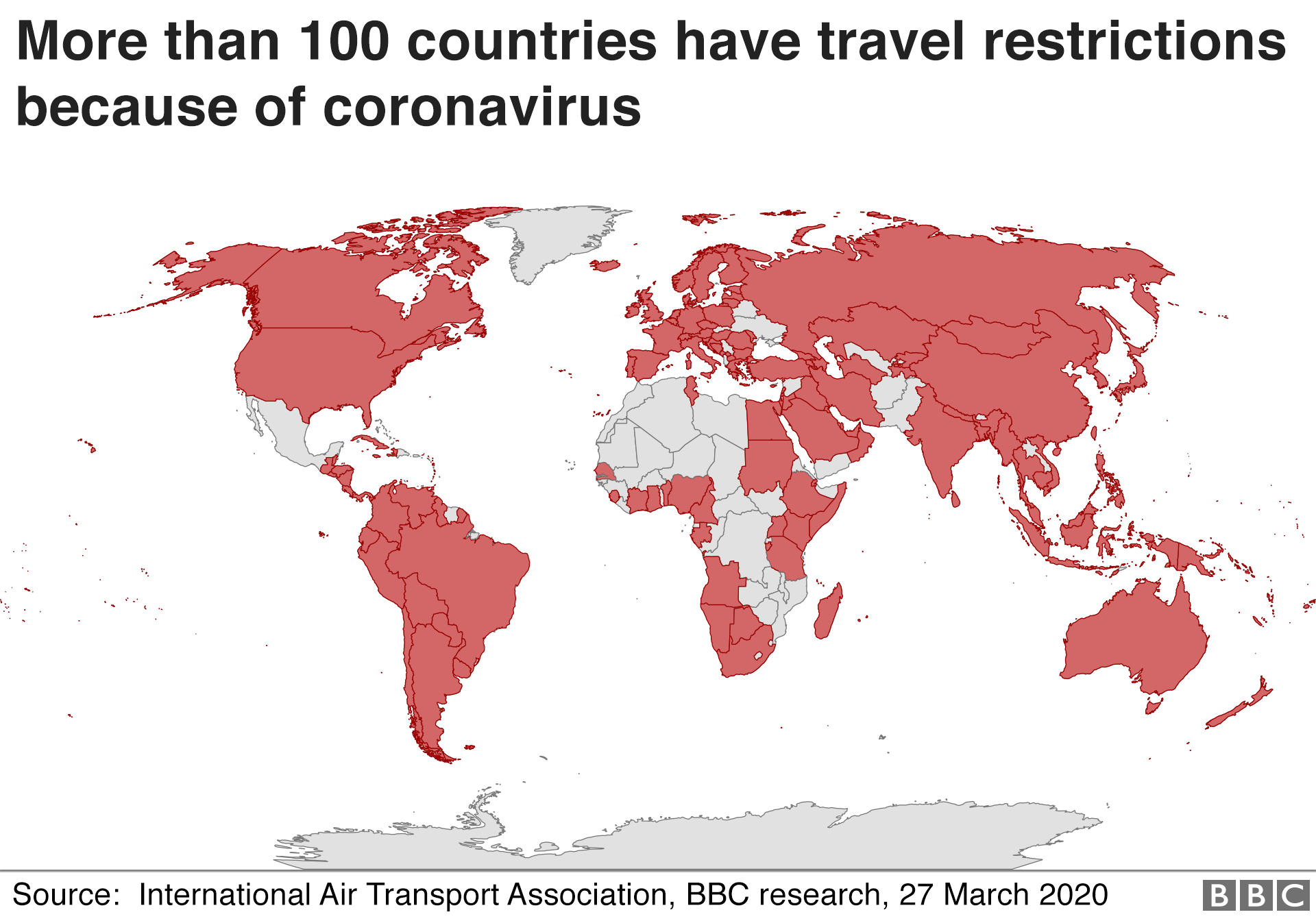 As a result, flights are cut in 1/2 (or more)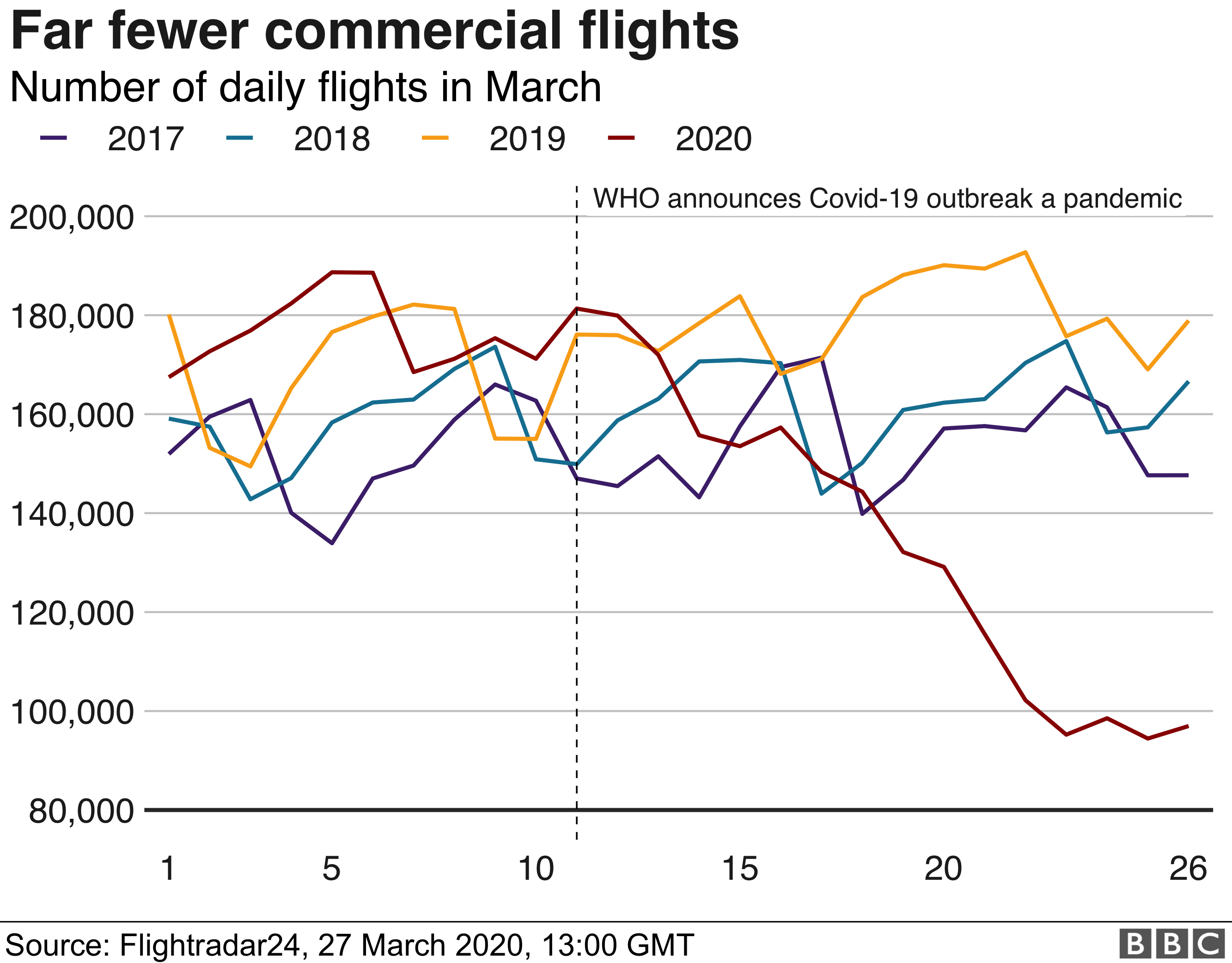 Frozen orange juice's demand shows people are stocking up!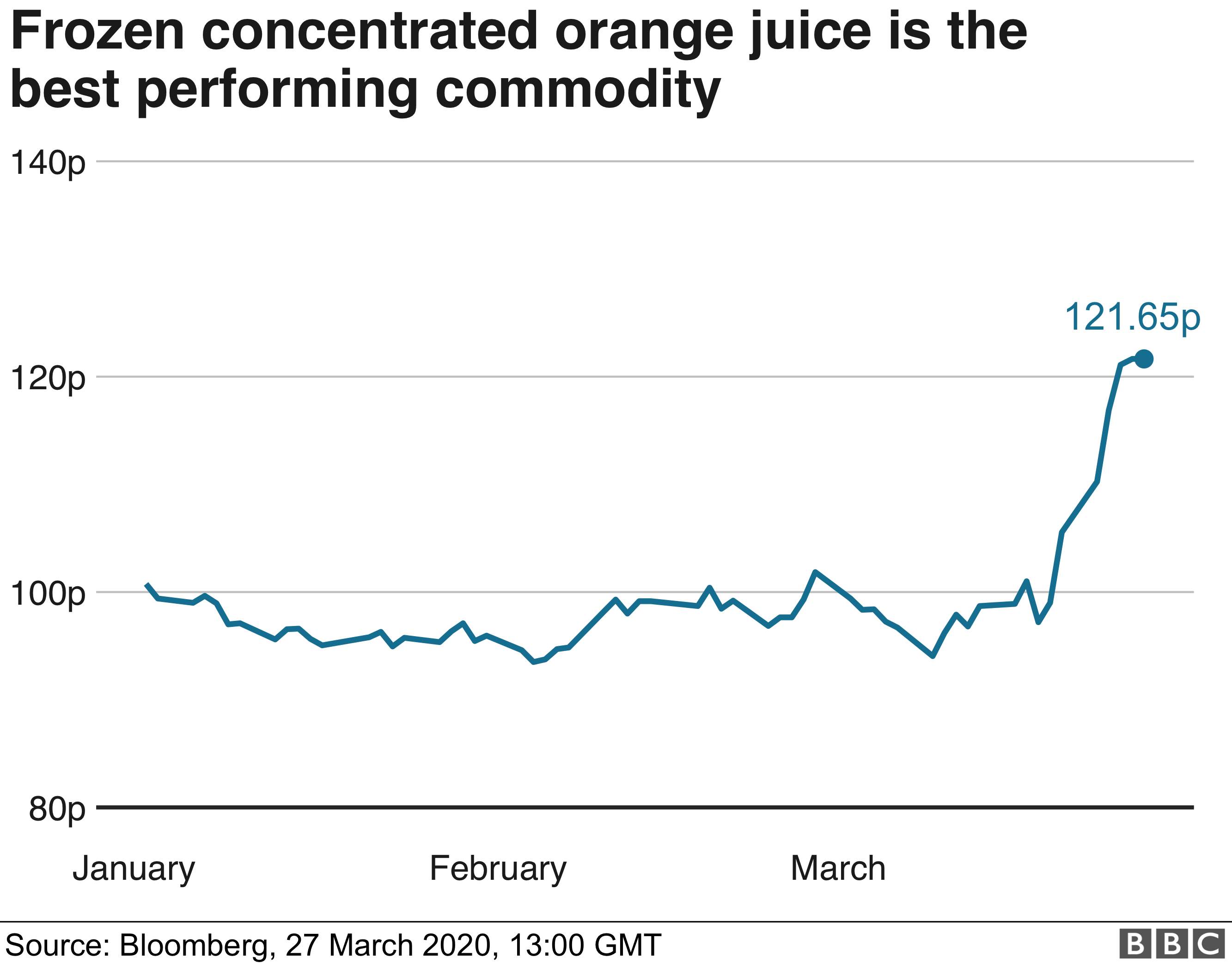 Will the economies recover?
Forbes reports that "Physics Of Spread To Predict 100% Market Recovery From Coronavirus":
Coronavirus is spreading. Until the coronavirus spread stops accelerating, markets are not going to recover. At least not in any sustainable way. Yes, while pleasant, the surprise uptick in equity markets over the last few days may not last. In fact, there is only one metric that matters to understand the spread and market recovery. It is the acceleration of spread.

Below is data and analysis of this one metric: acceleration.

Acceleration is the rate of change of the change itself. The spread of spread per unit time. It is NOT to be confused with the change, which is new cases added each day. For clarity:

Velocity of spread = new cases added each day
Acceleration of spread = change in velocity, i.e., the change in new cases added each day

Here's a rule for market recovery; if acceleration is positive, markets will NOT recover. No other metric will matter. Corollary to that is the rule when acceleration is seen to be consistently negative, markets will seem to bounce back suddenly. Fast. Maybe as fast as they dropped.

The dashboard here shows our forecast timing for when negative acceleration is possible, and below is some data for new cases in the United States to understand acceleration better.

Mar 26 = 17224 new cases → 3869 more new cases than Mar 25
Mar 25 = 13355 new cases → 2280 more new cases than Mar 24
Mar 24 = 11075 new cases → 886 more new cases than Mar 23
Mar 23 = 10189 new cases → 789 more new cases than Mar 22
Mar 22 = 9400 new cases → 4575 more new cases than Mar 21
Mar 21 = 4825 new cases → -763 more new cases than Mar 20
Mar 20 = 5588 new cases → 1006 more new cases than Mar 19
Mar 19 = 4582 new cases → 1729 more new cases than Mar 18
Mar 18 = 2853 new cases → 1105 more new cases than Mar 17
Mar 17 = 1748 new cases → 765 more new cases than Mar 16
Mar 16 = 983 new cases
At this point, it doesn't look good.
We're also doing a daily evaluation here in our Coronavirus updates post.
Up through yesterday, we only saw the velocity increase:
"On the first day we started tracking around March 12th, the daily cases velocity was around ~13-15,000/day, but you can see it's drastically WORSE & the death rate was about 500-700/day, but we are now at 500%+ that just 2 weeks+ later"
Today, as we go into the weekend, we saw the velocity slightly decrease.  We'll continue to monitor.
Many large companies will announce their Q1 earnings in April, confirming poor performance, and guidance for a difficult Q2 as-well-as 2020. It's likely the market will see more downside when that happens, especially if, as we believe, it's likely that acceleration will continue to be positive until a late April – early May time-frame.

In the meantime, lock yourself down, self-quarantine, and watch out for oscillations. Instead, watch only one metric – the acceleration of spread

Our dashboard -28% Coronavirus crash vs. 4 Historic crashes builds a complete macro picture. It complements our analyses of the coronavirus outbreak's impact on a diverse set of large companies, including smaller "portfolios" of Work- and Learn-at-home stocks to recovery in transportation. The complete set of coronavirus impact and timing analyses is available here.

The effects of lockdowns are visible

In order to stop the spread of the Covid-19 outbreak, many countries across the world have started implementing very tough measures. Countries and world capital have been put under strict lockdown, bringing a total halt to major industrial production chains.

The European Space Agency has registered an impressive fall in pollution across the European skies.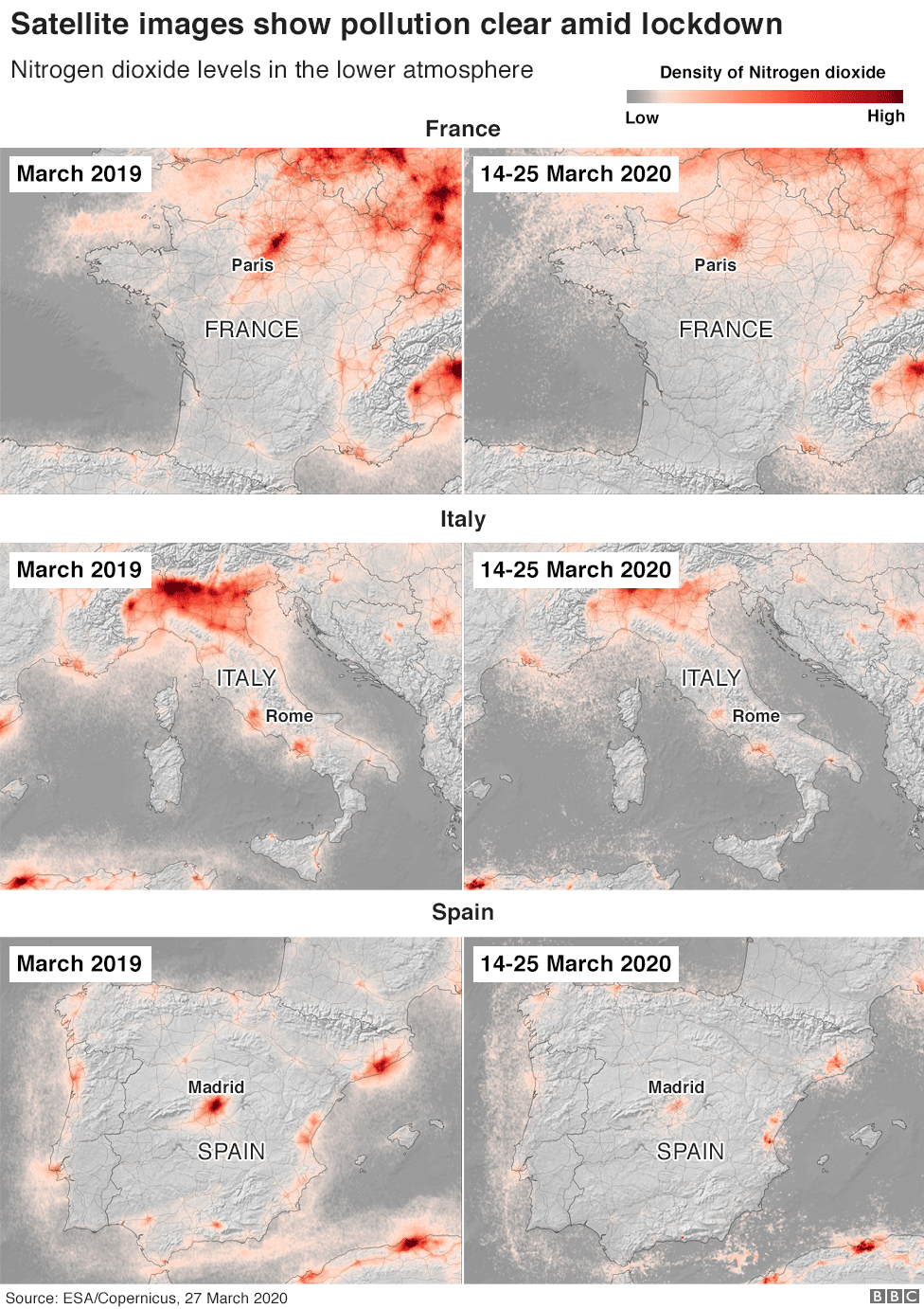 Factories in China slowed down

In China, where the coronavirus first appeared, industrial production, sales and investment all fell in the first two months of the year, compared with the same period in 2019.

China makes up a third of manufacturing globally, and is the world's largest exporter of goods.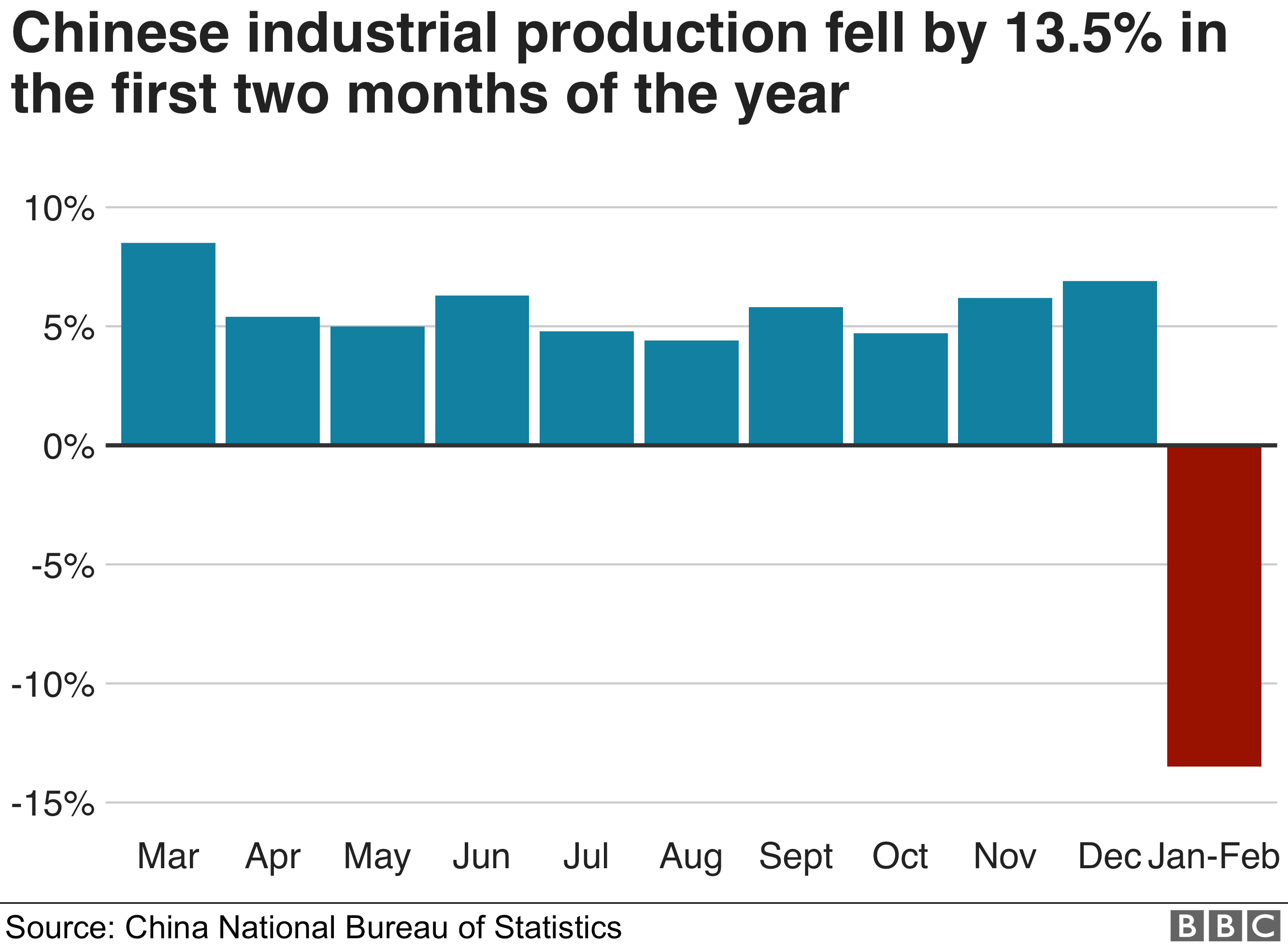 Restrictions have affected the supply chains of big companies such as industrial equipment manufacturer JCB and carmaker Nissan.

Shops and car dealerships have all reported a fall in demand.

Chinese car sales, for example, dropped by 86% in February. More carmakers, like Tesla or Geely, are now selling cars online as customers stay away from showrooms.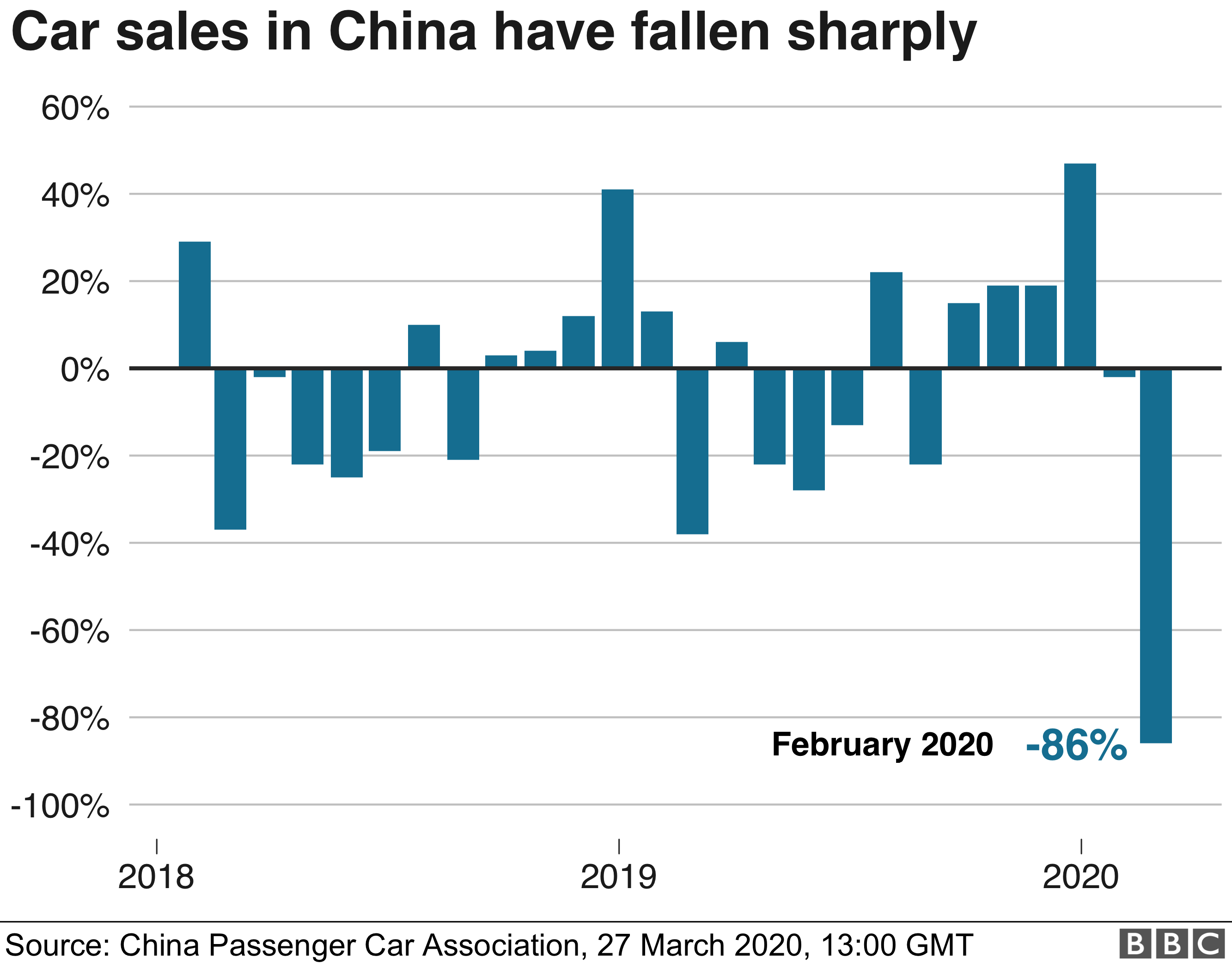 Even 'safer' investments hit

When a crisis hits, investors often choose less risky investments.

Gold is traditionally considered a "safe haven" for investment in times of uncertainty.

But even the price of gold tumbled briefly in March, as investors were fearful about a global recession.

Likewise, oil has slumped to to prices not seen since June 2001.

Investors fear that the global spread of the virus will further hit the global economy and demand for oil.

The oil price had already been affected by a row between Opec, the group of oil producers, and Russia. Coronavirus has driven the price down further.

Growth set to stagnate

If the economy is growing, that generally means more wealth and more new jobs.

It's measured by looking at the percentage change in gross domestic product, or the value of goods and services produced, typically over three months or a year.

The world's economy could grow at its slowest rate since 2009 this year due to the coronavirus outbreak, according to the Organisation for Economic Cooperation and Development (OECD).

More on "Understanding the Economic Shock of Coronavirus" on Harvard Business Review, which will be free until this crisis is over.