Bill Gates predicted today's unfortunate events 5 years ago
TLDR:
The Coronavirus has surpassed over 2.347 MILLION+ cases & 161k+ deaths globally
There are estimates that 500,000 will die here in the U.S. alone and also in the UK ;  some are even estimating as many as HUNDREDS of Millions to die
Corona has landed stateside and it WILL cripple the US (both financially & medically)
This is a stark warning about what is to come
Like Parasite's allegorical messaging, "Corona" is not just a "health thing, " but a larger message about how we should NOT ignore the "signals" & be smart like Bill Gates told us 5 years ago along with MANY others
In JUST 105+ days we already have:
 2,347,778 cases & 161,126 deaths globally confirmed*** 
***as of April 19, 2020, 11:18 GMT Source (Worldometer)
CURRENT FAST RISING CORONA CASES
Coronavirus disease 2019 (COVID-19) hospitalizations,* intensive care unit (ICU) admissions,† and deaths,§ by age group — United States, February 12– March 16, 2020
* Hospitalization status missing or unknown for 1,514 cases.
† ICU status missing or unknown for 2,253 cases.
§ Illness outcome or death missing or unknown for 2,001 cases.
TABLE. Hospitalization, intensive care unit (ICU) admission, and case–fatality percentages for reported COVID–19 cases, by age group —United States, February 12–March 16, 2020

Age group (yrs) (no. of cases)
%*
Hospitalization
ICU admission
Case-fatality
0–19 (123)
1.6–2.5
0
0
20–44 (705)
14.3–20.8
2.0–4.2
0.1–0.2
45–54 (429)
21.2–28.3
5.4–10.4
0.5–0.8
55–64 (429)
20.5–30.1
4.7–11.2
1.4–2.6
65–74 (409)
28.6–43.5
8.1–18.8
2.7–4.9
75–84 (210)
30.5–58.7
10.5–31.0
4.3–10.5
≥85 (144)
31.3–70.3
6.3–29.0
10.4–27.3
Total (2,449)
20.7–31.4
4.9–11.5
1.8–3.4
Age of Coronavirus Deaths – General
COVID-19 Fatality Rate by AGE:
*Death Rate = (number of deaths / number of cases) = probability of dying if infected by the virus (%). This probability differs depending on the age group. The percentages shown below do not have to add up to 100%, as they do NOT represent share of deaths by age group. Rather, it represents, for a person in a given age group, the risk of dying if infected with COVID-19.
AGE

DEATH RATE
confirmed cases
DEATH RATE
all cases

80+ years old

21.9%

14.8%

70-79 years old

8.0%

60-69 years old

3.6%

50-59 years old

1.3%

40-49 years old

0.4%

30-39 years old

0.2%

20-29 years old

0.2%

10-19 years old

0.2%

0-9 years old

no fatalities
How Corona was contracted in the  United States: 
| HOW VIRUS WAS CONTRACTED | CASES |
| --- | --- |
| Personal contact in U.S. | 280 |
| Travel overseas | 161 |
| Travel within the U.S. | 138 |
| Cluster connected to a community in New Rochelle, N.Y. | 119 |
| Nursing facility in Kirkland, Wash. | 61 |
| Travel in Egypt | 52 |
| Diamond Princess cruise ship | 43 |
| Long-term care facility in DuPage County, Ill. | 42 |
| Travel in Italy | 39 |
| Skilled nursing facility in Bellingham, Wash. | 32 |
| Business conference in Boston | 30 |
| Senior living facility in New Orleans | 24 |
| Grand Princess cruise in February | 21 |
| Grand Princess cruise in March | 21 |
| Travel in China | 15 |
| Veterans Home in Lebanon, Ore. | 14 |
| Nursing facility in Troy, Ohio | 12 |
| Assisted living facility in Fort Lauderdale, Fla. | 7 |
| Tied to Joint Base Elmendorf–Richardson in Alaska | 7 |
| Senior living facility in Colorado Springs | 6 |
| Psychiatric hospital in Westland, Mich. | 5 |
| Connected to Port Everglades in Fort Lauderdale, Fla. | 4 |
| Hospital in Vacaville, Calif. | 3 |
| Nursing facility in Stanwood, Wash. | 3 |
| Travel in South Korea | 2 |
| Travel in Iran | 2 |
| Connected to Episcopal church in Washington, D.C. | 2 |
CORONA/COVID-19 RESOURCES & MUST READS:
Read further to listen to one of the more cogent arguments for why you need to take this seriously…
(Please) Just. Read . The.  Facts.
And I beg you all to stop thinking about JUST yourselves.  Think of our grandparents or elderly who are the most at risk.  Sure, it might not be a big deal for folks up to 60+, but after that, there's a steep curve to mortality
Repeating from above:  How to flatten the curve
Corona – The Facts (stop using fallacies)
Nevertheless, let's talk about the "facts."  (even though any "doubter" will probably think this is #fakenews)
The reports I received from a local chinese  which showed 12,781 deaths vs. a much lower reported number no longer needs to be questioned.  It's happening already throughout the world where information is more freely available.
March 20th Report on the Deaths in Italy per age group
The Seattle/Bellevue Panic
Briefly, I have to mention that I have never seen it so crazy; not even when the previous weather calamities literally empty out the local retailers.
The Bird Flu and Now Corona then…
In 2009, I made one of the toughest career decisions ever.  The good news is that I don't regret one bit of it.  However, at the time, it was more than stressful and cost me most likely at least $100k USD.  Yes, $100,000.00 USD.
I spent 3 years building one of the fastest growing group of cram schools in the southern region of (South) Korea.  Initially, I was tasked with simply managing a group of teachers in Ulsan and then the COO at the time recognized I had "special powers" in motivating people and asked me to take on a much larger role with the Parent company that owned the handful of schools.  Supposedly, I impressed the CEO and then for the next 3 years, I spent doing everything I could to  help him grow the southern region franchisee of the fastest growing English cram school in the country – at the time.
We started with about 5 or so schools, about 15-25 teachers (it depends on who you count as "teachers") and about ~500-800 students.  I wont' tell you all the specifics, but I basically revamped their entire method of recruiting, built the first ever "training center" outside Seoul and helped manage the entire business including the Korean branch managers and everyone to produce some of the fastest growth I've ever seen — possibly even faster than most dotcoms.  We ended up with about 16 schools, 140+ teachers and close to 7000 students.  I say "fastest", but I probably mean "most efficient" given I had been able to leverage the human resources with basically almost no budget.  I did SEO, PPC, direct recruiting, direct business development an just a slew of other strategies that allowed them to become the fastest franchisee in the country.  This is on top of the silliness of the egos at HQ which honestly just wasted the time of everyone.  The irony is that they could of reaped even more benefits if they listened – unfortunately, they didn't and that's why all of them suffered.  They ended up recruiting me back due to my prowess, but they failed to learn and as a result, I left 6 months into the second time I was manipulated into joining.  I digress…
The reason I share the last set of numbers of where we ended (and peaked) is because that was the time where I decided to give my letter of resignation.  I gave it 2 weeks before I was to vest all my stock options — they made it where you couldn't vest a single share until 3 years later — stupid, but I fell for it because it was also on top of my salary which was the highest in the company.  While the salary was large to me, it would have paled in comparison to western standards easily.
Why did I quit possibly the most lucrative opportunity I had given up through that point?  
I had just recruited our most recent batch of teachers — about 20+ of them.  They quit their jobs, they dropped everything they were doing, they had moved, they bought plane tickets and said their goodbyes and then wham!  I said you can't come.  The jobs no longer existed.
The bird flu was growing.  It grew frankly like what I've been documenting thus far.  These two sequences of events are eerily similar.
However, at the time, my son wasn't a student at our schools.  Today, my son is potentially going to be affected by this directly.  So, I'm thinking differently.  But at the same time, I'm also now starting to empathize with that CEO of mine.
I made him look like the villain and frankly, I thought I was making an ethical and martyr like decision to make a point, but maybe I was wrong?  Basically, I said it was UNfair that he would do that to 20+ innocent people I didn't know.  I sacrificed $100k as  a result (maybe more).
So, who was truly right?  I would say both of us.  I was on the side of making us REALLY think about the decisions and he was on the side of trying to keep the business alive — and fighting all the perceptions that "Americans were dirty" or that "Americans may be potential transmitters" of the flu.  Ironically, we were more worried about foreigners bringing in the virus.
Funny eh?  
Today, it obviously isn't bird flu.  It's worse.
Today, we're not talking about the lives of Koreans.  We're talking about the lives of Americans — why?  It's because we can't care about those damn Koreans and Chinese who are spreading this, right?  I'm obviously being facetious, but if we come down to it, we really do internalize these thoughts.
How do I know?  It's because we didn't care when that first case was discovered on January 21st despite thousands of Chinese dying.  It wasn't us.  Let's move on.  Let's carry out our lives.  Why should we worry? 
When the Koreans started to discover it could spread INCREDIBLY quickly and the news existed, did we see anyone panic here in the states?  Again, the CDC says don't worry.  Calm down.
Today, the US Surgeon General said you "Don't need to buy face masks." Basically, on the orders of Trump, he doesn't want to create even more worry to possibly cause an even larger drop in the stock market.  Note, it dropped more last week than any time since October 2008.  Actually, it was the largest weekly point drop in history!
This is his ridiculous tweet:
But now we do…
I've already shown you the pictures.  It's happening.  We're starting to care.  It has to hit home before people start caring.
Here are some more resources to see if it's "hitting home."
Courtesy of University of Minnesota and friend Peter Y. 
Repeating from above:  How to flatten the curve
Here's part of the answer to the above question and MANY answers from Quora.  This is great from Gayle Laakmann McDowell:
Covid-19 is far more deadly than the flu—so much so that the comparison is rather ridiculous.

Let me start off with this: China has implemented mass quarantines, causing great damage to the economy (after brushing off this issue, just like many people here are inclined to do). Japan, which prizes education, has shut down its schools. Do you think they would do that if this weren't potentially a really big deal? So we should probably stop and say "hey, uh, this might be serious."

---

Flu vs. Covid-19

The flu kills 30,000 to 60,000 people in the US annually, so it's by no means "not a big deal." It's a big deal, and we do a lot to prevent those deaths. We have a vaccine, for example, which about half of the US gets.

This is how mortality rates compare for the flu and covid-19.

You might be saying, "But there are so many undiagnosed people! The mortality rates for covid-19 are inflated!" True. There also lots of people who are sick and about to die, but not yet dead. Those numbers are trying to take that into account.

What'll you see here is that everyone is much worse off with covid-19 than the flu. But things are looking really bad once people get into their 40s and 50s.

When this gets into nursing homes, you're looking at a ton of deaths.

---

Diamond Princess Cruise data

If you brush off this study because you don't think they can properly take into account the undiagnosed rate, then let's look at this another way:

The Diamond Princess cruise had 3700 healthy people on board, and (presumably) one person with covid-19. Now, a few weeks later, seven people are dead so far (and potentially more deaths to come—the most recent death was yesterday).

Forget about the rate of diagnosis and the number of asymptomatic people. Let's just look at the raw numbers. 7 deaths out of 3700 people. Extrapolated out to the general US population, that's 600,000 deaths. That's a lot.

You might object that cruise ship passengers are all old, but the average cruise ship passengers is 47 (vs. a US average age of 38). So older, yes, but not elderly. And, cruise ship passengers are likely in better health than the average person their age.

There is also a lot of reason to believe that the Diamond Princess cruise ship numbers are lower than the general population would be:

One person (presumably) killed seven people in just two weeks or so of spread. If given another few months to spread, how many more people would have been infected and killed?
This is only the deaths so far. More people could die in the next few weeks.

So, yes, all indications are that this could be a really big killer.

---

It's not just the immediate mortality rate either. When we have, potentially, millions getting sick, where are they going to go? How will we care for them? Hospitals already have a shortage of beds. We already have a nursing shortage. Doctors already have long waiting lists.

How are we going to care for other people who need medical care — for cancer, broken bones, etc — when our medical system is overwhelmed with people in critical condition from covid-19?

We also have a large number of uninsured in the US. How will they pay for medical care when they get hospitalized?

What we're looking at is, potentially, a large number of deaths from a variety of causes, and people financially devastated.

---

The point? Yes, this is scary. If it's a big enough deal for China to do mass quarantines, and for Japan to shut down its schools, we should probably take this seriously here, too.

We didn't in the Spanish flu, and a ton of people died as a result.

It's a big deal, and it shouldn't be "uncool" to say that.

Now, right now, covid-19 isn't killing that many people in the US. It's a new disease, and it just hasn't gotten the chance to infect that many people.

But if we don't get covid-19 under control, this will not stay the case. This might kill an astounding number of people, particularly when it infects a retirement home.

The thing with epidemics is that it didn't work to be like, "ya know, let's wait until this is actually killing lots of people, then let's take it serious." No, we have to take it serious now, to prevent it from being a massive killer.

If we do things right, only a small number of people will die, and people will look back and roll their eyes at the fear. "Gosh, that didn't end up being a big deal at all! What an overreaction!" And they'll be wrong. But better wrong than dead.

—

Sources:

Estimated Influenza Illnesses, Medical visits, Hospitalizations, and Deaths in the United States – 2017-2018 influenza season (Estimated Influenza Illnesses, Medical visits, Hospitalizations, and Deaths in the United States – 2017-2018 influenza season)
Other Corona Resources to get updates
History Repeats Itself
Honestly, I've written way too much already.  I'll be shocked if you're reading through this point.  However, this is part of the problem.  We don't care.  It doesn't matter until it hits home.
Guess what?  It will be too late by that point.
Haven't you been watching "The Walking Dead" or "Ash vs. Evil Dead"?  Lol.  Actually I shouldn't even use a single Lol.  This isn't funny.
Back to the point about history…
I'm not going to list ALL the pandemics in history, but let me just quote a little (on JUST flus) from the HUGE article/post/fakenews about pandemics on the fake reference site Wikipedia.
Why we'll have potential another "Black Plague"
Again, I'm going to rely on my the contributors (aka our brother and sisters) of Wikipedia.  
Antibiotic resistance

Antibiotic-resistant microorganisms, sometimes referred to as "superbugs", may contribute to the re-emergence of diseases which are currently well controlled.[118] For example, cases of tuberculosis that are resistant to traditionally effective treatments remain a cause of great concern to health professionals. Every year, nearly half a million new cases of multidrug-resistant tuberculosis (MDR-TB) are estimated to occur worldwide.[119] China and India have the highest rate of multidrug-resistant TB.[120] The World Health Organization (WHO) reports that approximately 50 million people worldwide are infected with MDR TB, with 79 percent of those cases resistant to three or more antibiotics. In 2005, 124 cases of MDR TB were reported in the United States. Extensively drug-resistant tuberculosis (XDR TB) was identified in Africa in 2006, and subsequently discovered to exist in 49 countries, including the United States. There are about 40,000 new cases of XDR-TB per year, the WHO estimates.[121]

In the past 20 years, common bacteria including Staphylococcus aureus, Serratia marcescens and Enterococcus, have developed resistance to various antibiotics such as vancomycin, as well as whole classes of antibiotics, such as the aminoglycosides and cephalosporins. Antibiotic-resistant organisms have become an important cause of healthcare-associated (nosocomial) infections (HAI). In addition, infections caused by community-acquired strains of methicillin-resistant Staphylococcus aureus (MRSA) in otherwise healthy individuals have become more frequent in recent years.

Viral hemorrhagic fevers

Viral hemorrhagic fevers such as Ebola virus disease, Lassa fever virus, Rift Valley fever, Marburg virus and Bolivian hemorrhagic fever are highly contagious and deadly diseases, with the theoretical potential to become pandemics.[122] Their ability to spread efficiently enough to cause a pandemic is limited, however, as transmission of these viruses requires close contact with the infected vector, and the vector only has a short time before death or serious illness. Furthermore, the short time between a vector becoming infectious and the onset of symptoms allows medical professionals to quickly quarantine vectors, and prevent them from carrying the pathogen elsewhere. Genetic mutations could occur, which could elevate their potential for causing widespread harm; thus close observation by contagious disease specialists is merited.

Coronaviruses (CoV) are a large family of viruses that cause illness ranging from the common cold to more severe diseases such as Middle East Respiratory Syndrome (MERS-CoV) and Severe Acute Respiratory Syndrome (SARS-CoV). A novel coronavirus (nCoV) is a new strain that has not been previously identified in humans. Coronaviruses are zoonotic, meaning they are transmitted between animals and people. Detailed investigations found that SARS-CoV was transmitted from civet cats to humans and MERS-CoV from dromedary camels to humans. Several known coronaviruses are circulating in animals that have not yet infected humans. Common signs of infection include respiratory symptoms, fever, cough, shortness of breath, and breathing difficulties. In more severe cases, infection can cause pneumonia, severe acute respiratory syndrome, kidney failure and even death. Standard recommendations to prevent infection spread include regular hand washing, covering mouth and nose when coughing and sneezing, thoroughly cooking meat and eggs. Avoid close contact with anyone showing symptoms of respiratory illness such as coughing and sneezing.

Severe Acute Respiratory Syndrome (SARS)

In 2003 the Italian physician Carlo Urbani (1956–2003) was the first to identify severe acute respiratory syndrome (SARS) as a new and dangerously contagious disease, although he became infected and died. It is caused by a coronavirus dubbed SARS-CoV. Rapid action by national and international health authorities such as the World Health Organization helped to slow transmission and eventually broke the chain of transmission, which ended the localized epidemics before they could become a pandemic. However, the disease has not been eradicated. It could re-emerge. This warrants monitoring and reporting of suspicious cases of atypical pneumonia.

SARS-CoV-2

A new coronavirus initially known as "2019 novel coronavirus (2019-nCoV)", "coronavirus" or "Wuhan coronavirus". [123][124] Per 2015 WHO guidelines on the naming of viruses and diseases,[124][125] the International Committee on Taxonomy of Viruses (ICTV) announced that it would introduce a suitable official name for the virus[123] which is later known as SARS-CoV-2, as part of the official name giving-and-revealing by the World Health Organization (WHO), along with the official name of the disease being Coronavirus Disease 2019 (COVID-19). The virus may have originated at the Huanan Seafood Market in Wuhan, Hubei, China. Investigation conducted sometimes between 1 and 30 January found that at least 30 traces of coronavirus present at the market. The market, along with Wuhan and the Hubei province of China, has since been closed down indefinitely to prevent further spread of the virus. Confirmed cases has rapidly risen ever since and the death toll increased to be on par with and eventually surpassed 2003's SARS numbers. Originally found by Chinese ophtalmologist-turned-whistleblower Li Wenliang but was suppressed by Chinese authority and censors, accusing him of spreading hoax and inciting public order. This act by the Chinese State contributed greatly to the massive epidemic fallout afterwards. It is found to be 95% similar in strain and code with 2003 SARS coronavirus.

The virus managed to get out of China to some 20 other countries and territories, including France and the Philippines, where the first deaths outside China reported. In mid-February 2020, cases in China appeared to be lowered down but cases outside China saw increased spike in numbers, especially in South Korea, Italy, and Iran. In late-February 2020, cases of SARS-CoV-2 mounting in Germany and France as well as other region with lower number of infections, all linked to Italy's Lombardy and Veneto cluster. As of 29 February 2020, there are at least 89,769edit confirmed cases of this coronavirus and at least 3,061edit deaths.[126][127] This virus is transmissible from human to human and there also reports indicating the virus' asymptomatic infection, even an ability to spread within its incubation period.[128] The Italian government placed Lombardy and Veneto on lockdown. The South Korean government placed Daegu under lockdown. The Emergency Committee on the novel coronavirus (COVID-19) under the International Health Regulations (IHR 2005) was reconvened on 30 January 2020. WHO declared the outbreak to be a Public Health Emergency of International Concern, not a pandemic. As of 29 February 2020, the disease had spread to at least 61 other countries.[129] The oubreak is currently one of the deadliest epidemics caused by a type or strain of coronavirus.[130]

Influenza

Wild aquatic birds are the natural hosts for a range of influenza A viruses. Occasionally, viruses are transmitted from these species to other species, and may then cause outbreaks in domestic poultry or, rarely, in humans.[131][132]

H5N1 (Avian Flu)

In February 2004, avian influenza virus was detected in birds in Vietnam, increasing fears of the emergence of new variant strains. It is feared that if the avian influenza virus combines with a human influenza virus (in a bird or a human), the new subtype created could be both highly contagious and highly lethal in humans. Such a subtype could cause a global influenza pandemic, similar to the Spanish flu, or the lower mortality pandemics such as the Asian Flu and the Hong Kong Flu.

From October 2004 to February 2005, some 3,700 test kits of the 1957 Asian Flu virus were accidentally spread around the world from a lab in the US.[133]

In May 2005, scientists urgently called upon nations to prepare for a global influenza pandemic that could strike as much as 20% of the world's population.[134]

In October 2005, cases of the avian flu (the deadly strain H5N1) were identified in Turkey. EU Health Commissioner Markos Kyprianou said: "We have received now confirmation that the virus found in Turkey is an avian flu H5N1 virus. There is a direct relationship with viruses found in Russia, Mongolia and China." Cases of bird flu were also identified shortly thereafter in Romania, and then Greece. Possible cases of the virus have also been found in Croatia, Bulgaria and the United Kingdom.[135]

By November 2007, numerous confirmed cases of the H5N1 strain had been identified across Europe.[136] However, by the end of October, only 59 people had died as a result of H5N1, which was atypical of previous influenza pandemics.

Avian flu cannot yet be categorized as a "pandemic", because the virus cannot yet cause sustained and efficient human-to-human transmission. Cases so far are recognized to have been transmitted from bird to human, but as of December 2006, there have been very few (if any) cases of proven human-to-human transmission.[137] Regular influenza viruses establish infection by attaching to receptors in the throat and lungs, but the avian influenza virus can only attach to receptors located deep in the lungs of humans, requiring close, prolonged contact with infected patients, and thus limiting person-to-person transmission.

Zika virus

An outbreak of Zika virus began in 2015 and strongly intensified throughout the start of 2016, with over 1.5 million cases across more than a dozen countries in the Americas. The World Health Organisation warned that Zika had the potential to become an explosive global pandemic if the outbreak was not controlled.[138]
Significant Irony
What makes me laugh (and cry) about this whole "potential warning about the next pandemic" (or literally being the next one) is that the need to survive actually buttresses the problem.
It's already been said most likely in the Wikipedia pieces, but my 3-prong theory is:
Inoculation and the methods of combating these viruses are very short term responses.  We don't devise a larger strategy around history.  Case in pointThe Surgeon general's ridiculous tweet:

US Surgeon General Exasperated

We all are selfish.  It's a capitalistic world.  Even China has become one of the biggest believers in Capitalism.
Karma's a bitch
I'm coming back to elaborate on these points, but they should be obvious to any "smart" person who thinks about it.  I know. I know.  Most people can't even grasp partially as to why any of these points make sense…so I will come back and explain — even though it probably won't get through their thick skulls.
Trump is the first person to run
Here's the biggest irony of them all.  Trump didn't care initially.  Actually, he thought the problem didn't affect him like his belief that all his threats to China were working.
Then he comes out and tries to say everything is o.k. — which then was immediately followed by the worst Stock Market Slide in history.
Have you seen "Train to Busan?" You should.
He's acting JUST like the villain in "Train to Busan".  Initially he poo poos it, then gets his Surgeon General to try and also squash it while the rest of America is starting to suffer both physically and financially.
He's starting to feel it in his wallet for the first time and now knows that it really is serious.  Yet, he's willing to throw other people under the bus like he's doing with all his efforts to "squash" this, but ultimately, it will create more problems.
Guess what Trump?  The villain dies.
Guess what Trump?  The election is around the corner.
Guess what Trump?  
What we need to do
ACT on the problem like China has, but not wait until 2 months later.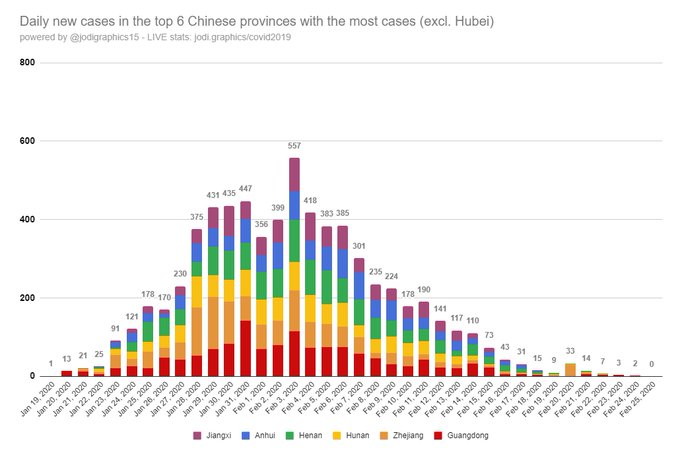 If we don't, this graph for the U.S. will NOT look pretty.
It will look like the Madagascar Plague
Or the most famous plague hopefully all of you know about:
The Black Death, also known as the Pestilence (Pest for short), the Great Plague or the Plague, or less commonly the Black Plague, was one of the most devastating pandemics in human history, resulting in the deaths of an estimated 75 to 200 million people in Eurasia, peaking in Europe from 1347 to 1351
The world was estimated to have a population of about 350 million in 1400.  Basically, 57% of the world may have been wiped out because of the "Black Plague."
You can do the numbers. It's again NOT pretty.  And can I repeat:
How is the Corona Virus Transmitted?
Person-to-person spread
The virus is thought to spread mainly from person-to-person.
Between people who are in close contact with one another (within about 6 feet).
Through respiratory droplets produced when an infected person coughs or sneezes.
These droplets can land in the mouths or noses of people who are nearby or possibly be inhaled into the lungs.
Spread from contact with infected surfaces or objects
It may be possible that a person can get COVID-19 by touching a surface or object that has the virus on it and then touching their own mouth, nose, or possibly their eyes, but this is not thought to be the main way the virus spreads.
Can someone spread the virus without being sick?
People are thought to be most contagious when they are most symptomatic (the sickest).
Some spread might be possible before people show symptoms; there have been reports of this occurring with this new coronavirus, but this is not thought to be the main way the virus spreads.
How easily does the virus spread?
How easily a virus spreads from person-to-person can vary. Some viruses are highly contagious (spread easily), like measles, while other viruses do not spread as easily. Another factor is whether the spread is sustained.
The virus that causes COVID-19 seems to be spreading easily and sustainably in the community ("community spread") in some affected geographic areas. Community spread means people have been infected with the virus in an area, including some who are not sure how or where they became infected.
*Usually a few days out of date
p.s. One last thing.  Do me a favor.  And do yourself a favor.
Listen to those friends who are analytical.
Pay attention to those friends who have an extreme amount of experience and have seen issues like this first hand.
Don't make conclusions so easily.  Perhaps you didn't read into the details as much as you should have.
Work is important, but is your life less so?
If you love your family or your friends, you will frankly read between the lines, not skim things b/c it's easy and start to realize that even though time is scarce, you need to use every bit of it as much as you can.
Otherwise, you're going to need to sign up for my new startup's services like right now!  Others are already jumping on it because frankly, it may be the most important thing you ever do.  Visit our FB page for updates as well, if you feel compelled & want to support.  Or even contribute to our initial survey since we really appreciate feedback.  This link is for the younger ones who I think honestly are quite amazing.
And no, I didn't plan on this virus helping me.  #Karma did.
---
Repeating from above:  How to flatten the curve