More than a 1/4 century later, I land back in the City of Angels  – to stay.
This time, it may be much longer than that incredible summer I had as a young, naive 22 year old — fresh out of college.  I am joined by my older twin, who is just 3 years younger, while his younger brother is building his Kpop career in Seoul.
On a drive up Crenshaw Blvd on the way to H Mart in Koreatown, I pondered how this time is much different from that summer of 1993.  The world has completely "changed" (mentally) having experienced the depths and highs of life and having lived in 4 other grand cities other than L.A. for extended periods (Hong Kong, Seoul, Shanghai & New York).
Having my older child with me might also be why I'm a wee bit more conservative this time around.   Being (potentially) "wiser" may be why I have already formulated some immediate thoughts as to what the city represents to me now:
Liberal, yet "dog eat dog"
In New York, I found many "every day folk" to be completely stressed out.  Everyone was in a rush to get to the next thing.  "Next! Next! Nexxxxxttttt!" yelled the cashier in the deli.  Some mafiaso lookalike character in a  80s yellow cadillac had cut me off while I was walking through the crosswalk to work.  I hit the back of his car completely baffled as to why the greasy & curly dark haired 50 year old had almost hit me.  He stopped as soon as he heard the back of his car getting slammed by my right hand.  We both  yelled obscenities for what felt like 15 minutes, but as soon as I realized the 25+ gold chains around his neck might mean he was a "Gambino," I decided to  mosey back to work hoping he would confuse me with all the Chinese he thought were Korean.
In LA, you have longer haired blond types who look like they had surfed their way through life.  Their tans are definitely more natural and their attitudes are much more relaxed.  But put them on I-10 or one of the major thoroughways and you'll see them run you off the road just like most of the other freaks on the highways.  There's a reason why this place is the setting of the 1993 movie "Falling Down" starring Michael Douglas.
The first thing I noticed when driving in California, in general, was how fast people drive on the highways.   The speed limit may be 65, but people drive 80 mph without hesitation and many times, you're getting passed.  It started in the Bay area, but it definitely was extremely apparent in the web of interstates down here.
On the way to our 4 pm Sunday appointment to Spectrum (aka Charter Communications before their re-branding), I was stressed out that Google maps wasn't guiding us directly.   However, it wasn't Google maps, but it was the fact there were literally 3 highways on top of one another at various points which could easily put you going South when you were aiming to go North.  And the scary thing for us was that traffic is nowhere close to normal due to Covid-19.  Supposedly, my co-worker who lives down here in Burbank says it might not be even close to 50% what it is like when traffic is "regular LA traffic."  Thank God for our timing!
When we landed at Spectrum, there was a huge line around the building.  I was a little concerned we wouldn't get in, but here's where LA's different.  The security guy, Guillermo, walked by and I asked, "If we have an appointment, do we need to stand in line?"  He immediately took me to the front, specifically handled my appointment and grabbed the first available agent to take care of immediately — almost like I was some resident from Beverly Hills or some movie star.  I got first class treatment.
This reminded me of how kind the Beverly Hills police were almost 3 decades ago when I totaled my car on the way to work.  Their behavior was 180 degrees opposite from the NY police who told us to "foget 'bout it" when someone had side swiped (i.e., "hit and run") our Volvo when it was parked on the side of the street in Forest Hills (where we bought a co-op back in ~1999).
In stark contrast to New York, there are definitely more "friendly" people here per capita, but it doesn't stop them from honking their horns at almost anything that bothers them.   You definitely hear the sounds of car honks more than you do back in Seattle.
Leading Media Center, but still a bit behind
A little less than 2 miles away from our home in Culver City is a neighborhood where Google set up shop next to YouTube Space.  Nearby are other well known brands like Belkin or Fox.   Ogilvy, Millward Brown and multiple other newer brands like the Honest company are also housed here.  L.A. continues to be where "HOLLYWOOD" is and remains (at least for now) where movie stars and the top celebrities call home (at least in the U.S.).   
Even if the studios are taken over by everyday Jane and Joes on Tik Tok, Google's hedged their bets with YouTube.
While the technology kings have invested a bit of their future here in Silicon Beach, my attempts to get "connected" felt a little "old school."  The city's refuse department failed to have any way to sign up online (or transfer).  It did have an email address that got me a reply on the same day saying we need to open up a new account.  I could have done it the old fashioned way like it was required for Southern California Edison and SoCalGas.  Fortunately, I wasn't put on too long of a wait while dialing up the 1-800 numbers.  For some reason, I felt like getting power and the other utilities set up in Seattle was a bit more advanced.  Is it in the Bay Area?
While I can't say this is a direct correlation to the technological advances of LA, but our Verizon reception has been horrible.  I can barely get a bar in any of the stores and inside our duplex that my gracious friend (who's an  excellent Ophthalmologist) allowed us to stay in while looking for my longer term location, we definitely are thankful our WiFi is fast.
So, at least WiFi down here is incredibly quick — it says we're getting  479 Mbps download speeds with our $69.99/mo service that includes the router at $5/month.  This beats Comcast up north who wouldn't let us have JUST the Internet.   
Like no place on earth
One of the first things I did when we arrived was show my son the difference between Beverly Hills and any normal neighborhood.  After we grabbed a quick snack at H Mart, I drove him over to the wealthy enclave that literally is like no other.
Before we drove up any one of the many luxurious drives, we stopped at their version of "Whole Foods."  I know Whole Foods and this store is NO Whole Foods!!!  This place was definitely on another level!  
In Seattle, we  have Bellevue, but driving up the streets of one of the most privileged, I'm reminded that this city is literally like no other.
And my good friend from Seattle who moved down here emails me yesterday, "only in LA…."  He was describing the following event at the Rose Bowl Stadium.   Here are the details.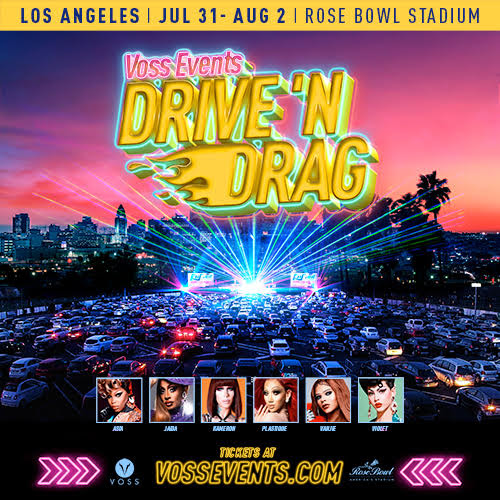 A pandemic can't keep the queens of RuPaul's Drag Race from ruling the stage!

Friday, July 31st through Sunday August 2nd at the Rose Bowl Stadium, Voss Events presents Drive 'N Drag!, a live theatrical experience starring RuPaul's Drag Race winners Jaida Essence Hall and Yvie Oddly, along with Asia O'Hara, Kameron Michaels, Plastique Tiara, Vanessa Vanjie and Violet Chachki!

Get out of your house.  Stay safe in your car.  And enjoy live drag on stage.  This is not your ma's and pa's drive-in!
He's right.  "Only in LA…"
And I look forward to re-engaging with this city…
…that I truly consider a one of a kind.