TLDR:
If you've been paying attention to the numbers for the recent pandemic, Korea, Italy and Iran (had in Korea's case) had some of the worst statistics for Covid-19 after the initial outbreak started in China.  Unfortunately for Italy and even Iran, the cases still mark them as two of the worst hit countries from this virus to this day.  However, Korea has steadily fallen to the lower ranks for both cases and deaths and even better, deaths per million population.
Before you see the numbers in each country, check out what it costs to take care of one person in Korea for 19 days of hospital stay and to get them back to "healthy":
This would easily cost between $20-50,000 USD or more for that length of stay in the hospital & all the treatment in the United States.  Guess how much the patient paid?  Answer below.
Before sharing the answer, let's examine:
Corona cases throughout the world
(as of 4/12/2020 17:14 GMT)
545,830

  

United states

166,019

 Spain

156,363 

 

ITALY (was #1 behind china for many weeks)

129,654 

 

france

126,656 

 

germany

84,279 

 

uk

82,052 

 

china

71,686

 Iran (used to be in the top 3 for many weeks)

56,956 

 

turkey

29,647 

 

belgium

#19:

10,512 (only slightly above their 8652 numbers on 3/12/2020) S. Korea (used to be towards the top just a few weeks ago behind China)
Originally, when I wrote this piece back on March 12th, the United States barely had any cases or deaths.  Crazy what 30 days can do.  America is now #1 for BOTH cases and deaths and are steadily widening the gap.  We used to look at Italy as a country that "couldn't handle the pandemic," but now it is increasingly clear, our leadership in the US handicapped the efforts of local, regional and even federal level responses to what now will become the biggest economic and most likely, medical disaster in both recent memory (and potentially throughout the entire history of the United States).
In terms of Deaths as a result of Corona, the top 5 in count are as follows:
21,474 deaths – United States
19,899 deaths – Italy
16,972 deaths –  Spain
13,832 deaths – France 
10,612 deaths – UK

#28: 

214 deaths – South Korea
#68 in deaths per 1M Population (out of 153 nations)
How did Korea go from one of the worst countries infected with the virus to one of the best?
An outbreak of Middle East Respiratory Syndrome (MERS) in South Korea in 2015 exposed vulnerabilities that terrified the populace and forced an overhaul of epidemic response. (123)
Just three days after news broke on Dec. 31 of a novel pneumonia in Wuhan, China, the KCDC set up a response team to study the virus.  (123)
Despite being lead by a "democrat," President Moon Jae-in allowed the use of invasive surveillance tactics to track worshippers at Shincheonji churches across the country. South Korea's phone companies have each user's national ID number.  (123)
Its excellent and affordable health-care system? Its cultural values? Mask-wearing? Some of these factors doubtless accelerated South Korea's rapid deployment of testing stations and its subsequent efforts to identify and treat patients. (124)
Currently, the country manufactures 100,000 test kits a day that can indicate whether a person has coronavirus within hours, the New York Times reported. (125)
Testing is at the heart of the country's coronavirus strategy. (126)
"It doesn't matter that my country is stabilizing and coming to grips with this," says South Korean  Foreign Minister Kang Kyung-wha, explaining the approach her country has taken to the coronavirus outbreak at a virtual World Economic Forum COVID Task Force meeting. "The world must overcome this together." (126)
Articles/Sources highlighting Korea's Pandemic Fighting Success
The following articles are in reverse chronological order.  Ideally, it would be ordered via source reputation given how #fakenews is truly becoming an issue, but recency is one of the few TRUE criterion we can rely on these days.  (Also, note, one piece below from Nature.com also highlights one of their methods that was controversial — the question today may be: is the public's safety a priority over the individual's privacy?  Most likely, in a democratic setting, it is…unfortunately or fortunately for the individual.)  
ANSWER TO THE COST OF THE TREATMENT OF COVID: 
The hospital stay for 19 days and all the treatment ONLY cost the patient about $40 USD — yes, the government ate the ENTIRE cost to protect the rest of the country.
THIS. IS. HOW. ITS. DONE. WORLD!!!
However, have you noticed the difference between Korea and the rest of the world? 
Related: South Korea: Finding its place on the world stage  (reported 10 years ago)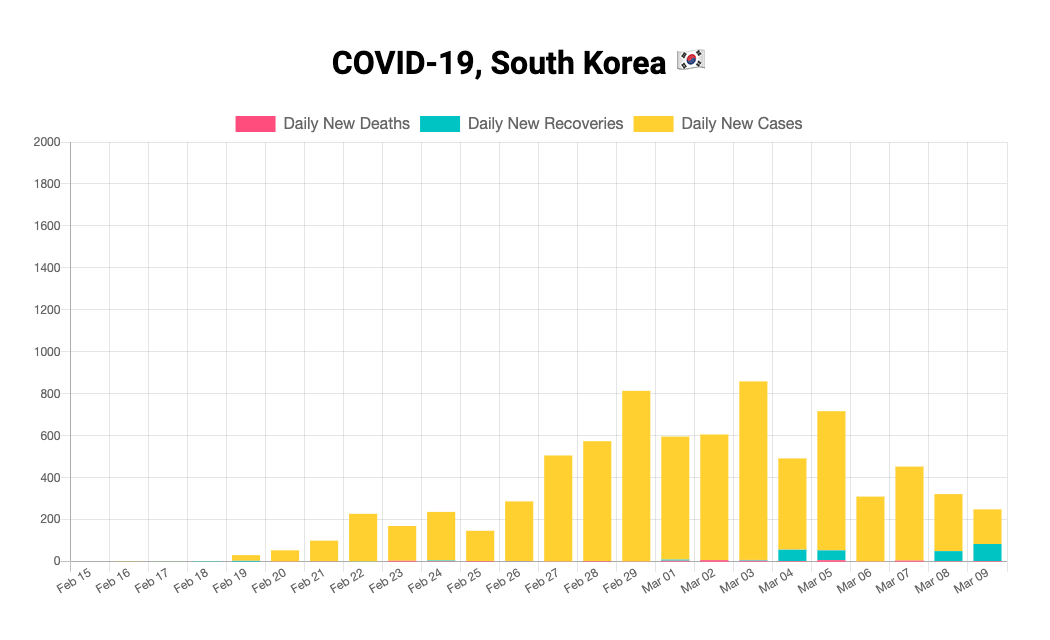 Look at Italy's numbers as a comparison.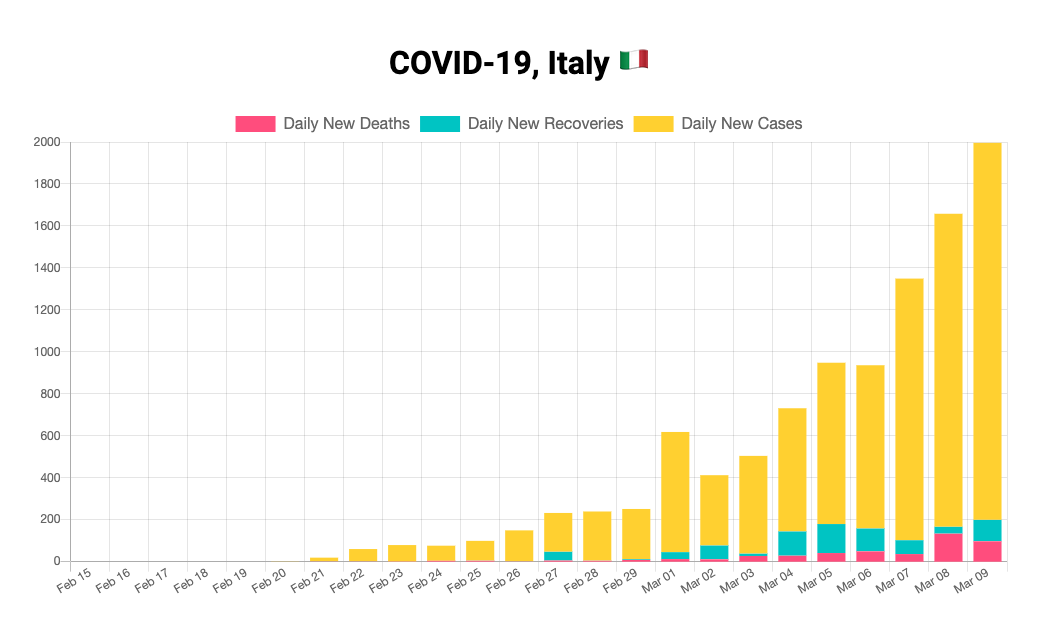 The Koreans are slaying this virus.
Source – the highly respected consulting firm McKinsey & Company
Part of the reason is they are running more tests than any other country besides Bahrain (not sure why Bahrain is doing so much, but go Bahrain!)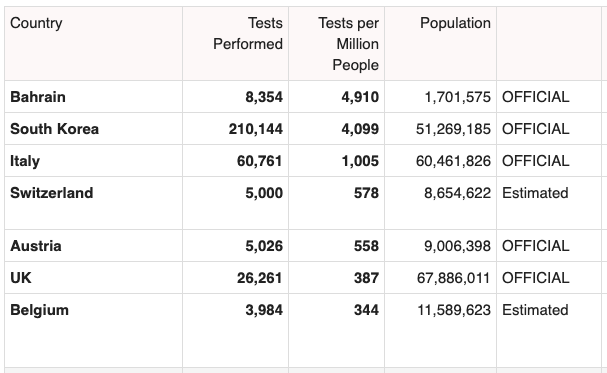 Here's proof of how it's working:
And Korea has a ton of hospital beds (only behind Japan and Germany which has MUCH more $$$):
Corona Cases in Korea by gender and age:
But note, Italy also has more "older people"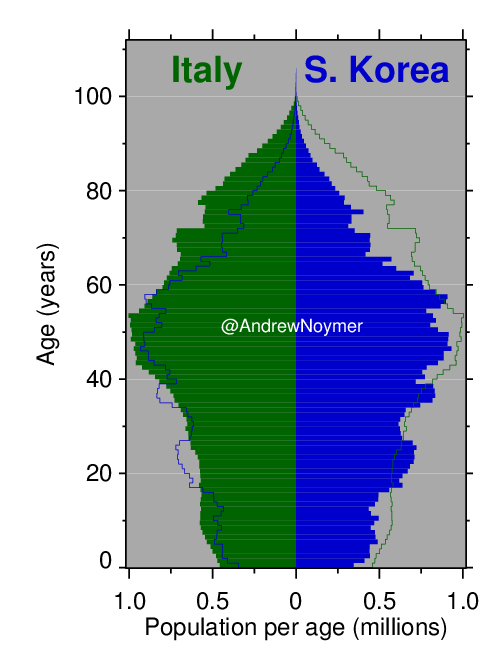 More Proof Korea's Slaying it from LinkedIn:
Richard Li on LinkedIn shared:
#Walk_thru #COVID19 #test
' #Walk-thru ' test booths offer easier access to #COVID-19 #screening
2020.3.16 ARIRANG NEWS
'드라이브스루' 잇는 '워크스루'…1인 검사 부스로 진화한 선별진료소
#SouthKorea 's ' #drive-thru ' COVID-19 test centers earned much global praise.
The country's innovative minds went one step further, and developed 'walk-thru' #testing #booths.
Kan Hyeong-woo gets us better acquainted with the system.
South #Korea has come up with a new 'walk-thru' test booth system for the #coronavirus .
Developed by a local hospital in Seoul,…the Safe Assessment and Fast Evaluation Technical booth of #YangjiHospital , or 'SAFETY', allows complete #separation between #patients and #doctors ….resulting in a much smaller chance of contagion.
"Once patients enter the booth, doctors check their condition. Patients can ask questions through the intercom. And, if needed, doctors can use a #stethoscope or penlight. Taking on-the-spot samples from patients is also possible."
There are currently four booths in operation.
Up to ten people can receive health screenings per hour.
Since each one is about the size of a regular telephone booth, it takes less than two minutes to disinfect after use.
#detection #clinical #seoul #medicine #medical #pcr #kit #biotech
Susie K. shared:
He continued by tweeting this yesterday moring: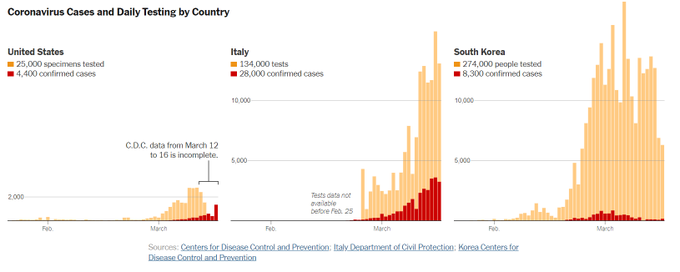 Side note: McKinsey warns:
Delayed recovery
Epidemiology. In this scenario, new case counts in the Americas and Europe rise until mid-April. Asian countries peak earlier; epidemics in Africa and Oceania are limited. Growth in case counts is slowed by effective social distancing through a combination of national and local quarantines, employers choosing to restrict travel and implement work-from-home policies, and individual choices. Testing capacity catches up to need, allowing an accurate picture of the epidemic. The virus proves to be seasonal, further limiting its spread. By mid-May, public sentiment is significantly more optimistic about the epidemic. The Southern Hemisphere winter sees an uptick in cases, but by that point, countries have a better-developed playbook for response. While the autumn of 2020 sees a resurgence of infections, better preparedness enables continued economic activity.
Economic impact. Large-scale quarantines, travel restrictions, and social-distancing measures drive a sharp fall in consumer and business spending until the end of Q2, producing a recession. Although the outbreak comes under control in most parts of the world by late in Q2, the self-reinforcing dynamics of a recession kick in and prolong the slump until the end of Q3. Consumers stay home, businesses lose revenue and lay off workers, and unemployment levels rise sharply. Business investment contracts, and corporate bankruptcies soar, putting significant pressure on the banking and financial system.
Monetary policy is further eased in Q1 but has limited impact, given the prevailing low interest rates. Modest fiscal responses prove insufficient to overcome economic damage in Q2 and Q3. It takes until Q4 for European and US economies to see a genuine recovery. Global GDP in 2020 falls slightly.
Prolonged contraction
Epidemiology. In this scenario, the epidemic does not peak in the Americas and Europe until May, as delayed testing and weak adoption of social distancing stymie the public-health response. The virus does not prove to be seasonal, leading to a long tail of cases through the rest of the year. Africa, Oceania, and some Asian countries also experience widespread epidemics, though countries with younger populations experience fewer deaths in percentage terms. Even countries that have been successful in controlling the epidemic (such as China) are forced to keep some public-health measures in place to prevent resurgence.
Economic impact. Demand suffers as consumers cut spending throughout the year. In the most affected sectors, the number of corporate layoffs and bankruptcies rises throughout 2020, feeding a self-reinforcing downward spiral.
The financial system suffers significant distress, but a full-scale banking crisis is averted because of banks' strong capitalization and the macroprudential supervision now in place. Fiscal and monetary-policy responses prove insufficient to break the downward spiral.
The global economic impact is severe, approaching the global financial crisis of 2008–09. GDP contracts significantly in most major economies in 2020, and recovery begins only in Q2 2021.
Responding to COVID-19: What companies are missing
Our conversations with hundreds of companies around the world on COVID-19 challenges have allowed us to compile a view of the major work streams that companies are pursuing (Exhibit 4).
While this list is fairly comprehensive, some companies are taking other steps. However, we have seen evidence that many companies are finding it hard to get the major actions right. We have consistently heard about five challenges.
Having an intellectual understanding isn't the same as internalizing the reality
Exponential case-count growth is hard to internalize unless you have experienced it before. Managers who haven't experienced this or been through a "tabletop" simulation are finding it difficult to respond correctly. In particular, escalation mechanisms may be understood in theory, but companies are finding them hard to execute in reality, as the facts on the ground don't always conform to what it says in the manual. Crisis case studies are replete with examples of managers who chose not to escalate, creating worse issues for their institutions.
Employee safety is paramount, but mechanisms are ineffective
Policy making at many companies is scattershot, especially at those that haven't yet seen the coronavirus directly. Many, such as professional-services and tech companies, lean very conservative: their protection mechanisms often add to a perception of safety without actually keeping people safer. For instance, temperature checks may not be the most effective form of screening, given that the virus may transmit asymptomatically. Asking employees to stay at home if they are unwell may do more to reduce transmissibility. Such policies are more effective if employees receive compensation protection—and insulation from other consequences too.
Some companies aren't thinking through the second-order effects of their policies. For example, a ban on travel without a concomitant work-from-home policy can make the office very crowded, leading to higher risk of transmission. Others are adopting company-wide policies without thinking through the needs of each location and each employee segment.
Optimism about the return of demand is dangerous
Being optimistic about demand recovery is a real problem, especially for companies with working-capital or liquidity shortages and those veering toward bankruptcy. Troubled organizations are more likely to believe in a faster recovery—or a shallower downturn. Facing up to the possibility of a deeper, more protracted downturn is essential, since the options available now, before a recession sets in, may be more palatable than those available later. For example, divestments to provide needed cash can be completed at a higher price today than in a few weeks or months.
Assumptions across the enterprise are misaligned
Some companies are pursuing their coronavirus responses strictly within organizational silos (for example, the procurement team is driving supply-chain efforts, sales and marketing teams are working on customer communications, and so on). But these teams have different assumptions and tend to get highly tactical, going deep in their own particular patch of weeds rather than thinking about what other parts of the company are doing—or about what might come next.
The near term is essential, but don't lose focus on the longer term (which might be worse)
Immediate and effective response is, of course, vital. We think that companies are by and large pursuing the right set of responses, as shown in Exhibit 4. But on many of these work streams, the longer-term dimensions are even more critical. Recession may set in. The disruption of the current outbreak is shifting industry structures. Credit markets may seize up, in spite of stimulus. Supply-chain resilience will be at a premium. It may sound impossible for management teams that are already working 18-hour days, but too few are dedicating the needed time and effort to responses focused on the longer term.
---
The coronavirus crisis is a story with an unclear ending. What is clear is that the human impact is already tragic, and that companies have an imperative to act immediately to protect their employees, address business challenges and risks, and help to mitigate the outbreak in whatever ways they can.
For the full set of our latest perspectives, please see the attached full briefing materials, which we will update regularly. We welcome your comments and questions at coronavirus_client_response@mckinsey.com.
Accolades by Conservative Media for South Korea
Conservative watch dogs hate to admit when their liberal counterparts are right.  While Korea doesn't necessarily fit smack dab in the middle of liberal ideology, the country's been tagged with that bias as a result of their progressive efforts in technology and various other areas.  The irony is that Korea's Christian population outdoes their Buddhist follower.  The previous president (who was ousted) also had connections to Catholicism despite being atheist.
The stupid stuff that's said about Korea's success despite all the "facts"
For more of the latest information on COVID-19, please see reports from the European Centre for Disease Control and Prevention, the US Centers for Disease Control and Prevention, and WHO; and thelive tracker of global cases from Johns Hopkins University.
While this may be true, I'm still INCREDIBLY proud of Koreans like I wrote on Quora (or should I call it Kwora?):
What have you done wrong in life?
I used to think Koreans were NOT worth being emulated.
While growing up, I was struggling to find role models who looked and acted like me. Instead all of them were white or had different facial features than me:
White men were the richest:
They were the best athletes:
Or they got the girl:
I thought Asians couldn't innovate. They only copied technology from the West.
We were maybe good at math and being nerds.
Some of us owned the local grocery store or laundromat. These days, we might be your teriyaki restaurant proprietors.
However, this changed in the early 2000's.
This little country which was only 107th largest in terms of land size out of the 200+ countries in the world produced some of the most amazing successes.
First memorable example was Yuna Kim for me.
Coincidentally, she was the lady who lit the main flame at the Winter Olympics at Pyeongchang here in 2018:
We won popular TV show contests (Survivor's Yul Kwon):
We became CEO's of top US companies (Charlesbank's Michael Choe):
And we showed the world a little "style" (albeit Gangnam Style):
We started to build the best technology in the world:
I would also learn the little country that's 27 times smaller in population than the largest was the world's top ship builder:
I would find out from a document accidentally released by Harvard Admissions that the 2014 class was made up of 57 Koreans from the mainland and who knows how many more from the US (potentially Korean Americans), the #1 source of Harvard College's international students behind #2, Canada, which definitely had Korean Canadians.
These were the International contributors to Harvard's 2014 college class:
1. Canada (138 – where many of them could have been Asian/Korean americans)
2. South Korea (57)
3. UK (51 – where again, many of these UK folks could be Korean-British)
4. China (41 – and even here, there's a chance some of these are Koreans)
5. Australia (31 – again)
6. Kenya (23)
7. Mexico (22)
8. India (22)
9. Turkey (17)
While this is only ONE of the elite universities, I know for a fact that Koreans find themselves into many of the other top universities with their will power, studious and diligent nature and a drive second to none.
I helped several get into Carnegie Mellon, Northwestern, Yale, Stanford, and a few other elite Universities. My friend KJ has also sent many of them to the top US institutions as you can see from his latest crop of top college entrants.
And Parasite just won the first ever Oscar for a film made in a foreign language (i.e., Korean).
#pioneers in #film
I was completely wrong.
I truly want to be Korean.
Fortunately, I am.
41.6k views as of 3/11/2020 on Quora
*Disclaimer: The information shared by Brandonna.com is for educational and informational purposes and is intended to support not replace the professional medical advice or information you receive from your doctor, news sources or otherwise. You should always consult with your physician or lawyer regarding any medical issues or legal concerns regarding the information provided. This information is not to be used to diagnose or treat any condition. Brandonna.com is not liable for how you use and implement the information you receive.